---
第 一 屆 / 1st Annual
一 九 五 〇 年 度 水 仙 花 皇 后 競 選
NARCISSUS QUEEN CONTEST 1950
Image courtesy of the Chinese Chamber of Commerce, Hawaii

---
CONTESTANT PROFILES UNAVAILABLE
---
DATE: Monday, February 13th
VENUE: Roosevelt Theatre on Maunakea Street, Chinatown Honolulu
CONTESTANTS: 11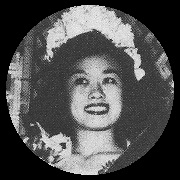 ❀ Janet Chun ❀
Narcissus Queen / 水仙花皇后──

─陳妙愛 Janet Mew Oi Chun

First Princess / 第一公主──

─    Nora Lin S. Mun

Second Princess / 第二公主──

─    Ruth Ah Ngit Awai Luke

Third Princess / 第三公主──

─    Natalie Lai Wun Young

Fourth Princess / 第四公主──

─    Muriel Ngit Yung Lung

Contestants / 參選佳麗──

─    Dora Mew How Bow

─    Annie Mae Sau Lin Wong

─    Sue See Wong

─    Barbara Kwai Sin Yap

─    Ethel Jean Ho

─    Betty Yuk In Lung
Janet Chun is 22 years-old and stands 5'1" tall. She weighs 103 lbs and her measurements: 32"-23"-35".
For the talent segment, she gave the Mu Lan poem.

Narcissus Queen is another crown to add to the list of her accomplishments. Janet had been Junior Prom
Queen at her high school in Maui and also the Chinese Beauty Queen of 1948 sponsored by the Chinese
Civic Association of Honolulu that was held at the July 4th celebration.

The very first Narcissus Queen contest was created as part of the Narcissus Festival to bring business to the
Chinatown area of Honolulu and to help perpetuate the Chinese culture. It was held around the time of Chinese New Year. The pageant in it's first year only allowed girls that were full Chinese and have some Chinese language ability. The pageant composed called for excellence in 3 areas: Evening Gown, Talent and Bathing Suit.
Evening Gown and Talent accounted for 40 percent of the score, while Bathing Suit accounted for 60 percent.
87